IDLES: Finding Solace Amid the Frenzy
IDLES guitarist Mark Bowen greets me outside the Button Factory with a hug that would breathe life into dead arteries, defying an exhaustion that couldn't be more evident.
It's October 2018, Idles have just finished their first US tour and are now in the belly of a European one that has seen promoters scrambling for bigger venues due to demand, moving this Bristol 'punk' band to places that would accommodate larger, more diverse crowds than first expected... because this very particular brand of loud, soul bearing, uncompromisingly honest rock isn't necessarily punk, Idles is something quite different.
In a short period just before we meet, the band has defied conventional chart logic by reaching number 5 with their second album, Joy is an Act of Resistance, infiltrating Spotify algorithms and bringing other bands with them in the process. They've given the populace a sneak peek of what one of their shows entails with a unique take on how one performs with Jools Holland, and in the months following our meeting, the band is announced to play at Glastonbury and nominated for Best Newcomer at the Brits which comes as no surprise to music fans, but baffles the Daily Mail.
Although they have been together 10 years, success has struck with both the speed and potential devastation of a yanked tablecloth, popularity bringing with it the pressures of fandom and a ravenous music industry. As Bowen explains, the band has been on the road for the guts of a year and a half with a two month break - during which they recorded the second album: "we've put ourselves in a situation that is absolutely abominable for one's mental health: touring; turning up at a venue where there's loads of alcohol; expectations from the media; expectations from each other; tired; missing your partner; missing your family; not getting to turn up at friends' weddings... but it's a work in progress and that's the whole point of mental health."
At this particular juncture, pressure seems to have come to a head and relations between Bowen and the band's frontman and chief lyricist, Joe Talbot, are fraught. It's a regular and not altogether unhealthy occurrence though, merely a result of Idles living their music: "It's part and parcel of our nature. We're fiery and very brutal with each other and sometimes it can go too far. We don't realise what we're saying to each other is causing so much pain or anger."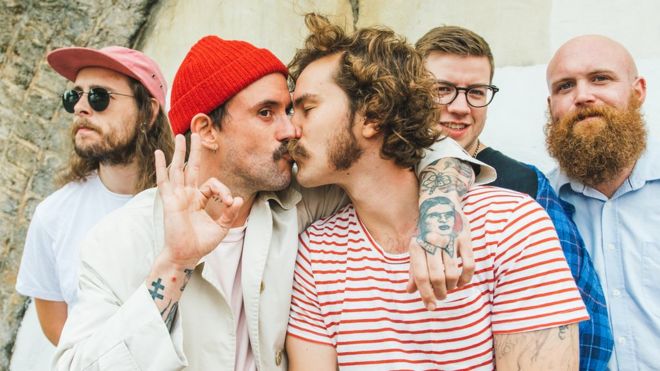 He explains how learning about each other's idiosyncrasies has enabled them to better approach heightened points of tension such as this: "My defence mechanism would be to retreat whereas Joe would get angry and try to release it which is a recipe for disaster. Luckily we know we love each other and we're not out to hurt each other so it's just about managing what's happened and coming to an understanding again."
It is exactly this type of vulnerability and self-awareness that has made the music of Idles appeal so broadly. Topics which coloured the first album (Brutalism) included the death of Joe's mother, and the NHS while in Joy is an Act of Resistance, Joe sings about losing his child while topics like immigration and toxic masculinity feature heavily.
We meet in Dublin at a point when public awareness of IDLES is manifesting itself in unexpected places - the gig before the Dublin date is reviewed in the Financial Times, and the band is beginning to pop up on popular radio shows in between hip hop and R&B tracks. After our coffee outside, Bowen leads us downstairs where we're greeted by Joe in what is a 'much bigger dressing room than we're used to' as the other three band members (Adam Devonshire, Jon Beavis and Lee Kiernan) each quietly occupy an individual space in the room. Joe explains that while this mainstream success may come as a surprise to some, it's very much part of the plan: "I want us to be one of those bands that were underground, became mainstream but changed the narrative. A bigger platform is just a bigger opportunity to change people's hearts and minds while still being tasteful, and still being you."
Joe speaks stridently about the positive impact his lyrics could have on society at large, but like Bowen he doesn't shirk from admitting the burden and sheer workload of being in a popular band: "Mindfulness has gone out the window with the breadth of our success. You're doing these huge shows and that's a lot to properly go on in the back of your mind, you're not thinking 'how does that feel' after the show… was that different?"
It's also clear that the true face of success's ugly bedfellow, fame, is looming large: "I don't want to be famous, now - I'm realising. I don't want to not be able to walk down the street. People have been saying that it must be hard to talk about your personal issues and I was thinking, no (it isn't)... but I had never really thought about it being read by as many people as it is."
As Joe speaks, it's clear this is something that is still being processed and perhaps causing a doubt here and there, but it mostly reinforces the sense of purpose: "it's important to remind yourself that it's ok, you're still the same person, and if you choose it… you can get out… not just quit the band, but you can be with your friends and be with your family. People know your face - that's all it is - they don't own you."
"We can, if we stick to it and look after each other, change the narrative. It's just about sustaining what we're putting into our art which is truth... but it's hard. It's a tough cycle every day - get up, sound check, do this (a show), DJ, go to bed. There's not a lot of time for 'how are you… how am I? But I think we're getting better at it - it's just about conversation."
Although Bowen and Joe are both happy to talk about themselves, it's clear that the art is foremost in their minds at all times. In the case of Idles, the art is something Joe describes as 'violent love' - a reaction to some of the distractions and threats to empathy that the modern world seems to be throwing up at a rate most of us can't comprehend. Crucially for Joe, it's never a lost cause, especially in the case of mental health.
"People get carried away with technology. There's a naivety to culture when things are invented and that's exactly what's happening now - society wanting the world to be a better place and using the internet to do it, but it will calm down and there'll be a sophistication to social media. People are already starting to become aware that social networking platforms are problematic; that facebook isn't so good for you - that it's not connecting everyone. It's actually dislocating people's frontal lobes and tactile thinking which is a necessity for mental health. It will get better."
Interestingly, ardent fans of Idles will feel they are ahead of the curve in living Joe's predictions of a safer, more empathetic internet space. The band's cross-demographic appeal is quite visible at its gigs, but even more accurately reflected online. The ALL IS LOVE: AF GANG group on fb boasts over 16,000 members and isn't your ordinary 'fan page'. On any given week, posts range from fans discussing which Idles lyrics resonate most, the best way to get to a gig to asking for advice on anxiety, opening up about suicidal ideation and seeking ways to get back into employment after bouts of illness or trauma. It's not uncommon to see a post begin 'I'm not feeling great today', and a thread of sixty odd responses. Most remarkable, however, is the level of positivity in the comments. Where normally cynicism and antipathy reign, on AF GANG the threads tend to be helpful and sincere. No doubt this is why Joe is so confident in our ability to regain empathy online on a larger scale.
The AF GANG group serves as validation of the effort and risk the band has taken in opening up, as Joe explains: "We try to put our experiences into our art, because that's what you do isn't it - you have a shit day, then a good day, and then you talk about it in the pub or whatever. This (the band) is our pub - and the AF GANG is maybe the pub for these people who listen to our music and relate to the things we're singing about."
"The fb group has given people a solid place to feel safe and talk about things and that's definitely more important than our music. It's something that's come out of it that's really actually interesting and positive. We didn't start it, and we don't maintain it - it's got nothing to do with us which is incredible."
Popular bands like Idles will always have their detractors, but it is impossible to neglect such a positive impact on those who are drawn to the art. Credit must be given where it's due.
And it is, in spades - soon after, as the band dismisses any sign of lethargy and takes to the stage - embracing a jolt of adrenaline amid a haze of sweat in a Button Factory heaving with expectation and adulation. The connection between the band and the fans is true, and the men on stage are united in taking on the challenge of the 'narrative'.
In the months since our meeting, none of the expectation has died down, and the band is back on tour again - this time cutting out the alcohol. If mental health is a work in progress, it seems they're ambling forward quite well.The positivity surrounding their first tour gigs has been everywhere and everything is set for the release of the third album in 2020.
On this side of the Irish sea, more and more fans across all 'categories' have been drawn to the 'violent love' which will startle few who were present in the Button Factory that Monday night: amongst a demographic-defying crowd, much like on the fb interface, Joe's words rang true: "I'm obviously a middle class, 30-something, white male but my lyrics aren't just for middle class white men, they can be for anyone. We're just the kindling for that."
IDLES return to Dublin on July 11th at Iveagh Gardens. Limited tickets still available here